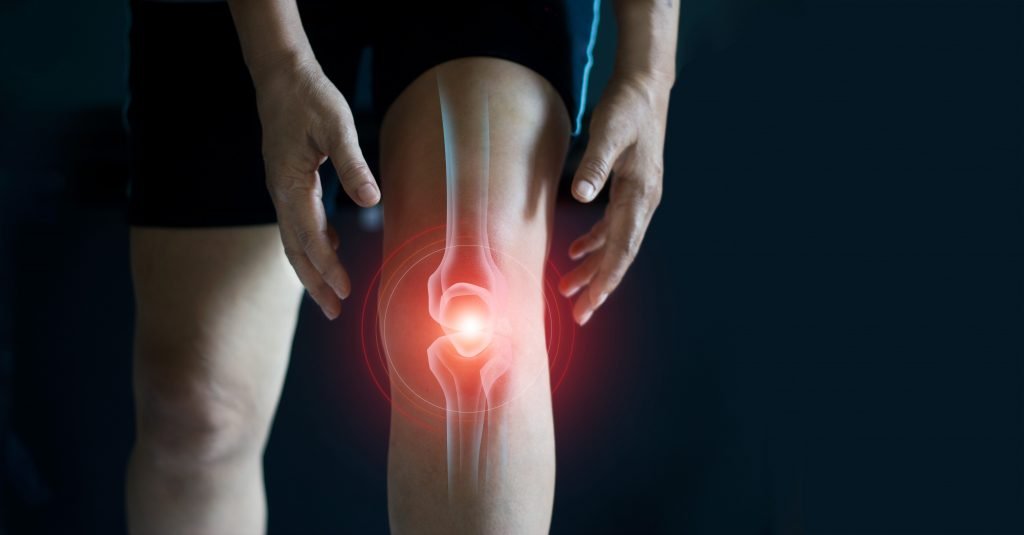 Although estimates on the number of Americans living with chronic pain vary widely, a report from the National Academies of Sciences, Engineering and Medicine say it's safe to assume that there are millions of Americans whose lives are impacted by chronic pain.1
Knee pain is the second leading pain condition (after back pain) reported.  Incidence of knee pain increased by almost 65% in a twenty-year time span, with approximately 25% of adults impacted. Knee pain is the cause of nearly 4 million visits to primary care physicians annually.2 A substantial increase in knee pain prevalence over 20 years is not dependent on age or BMI.3
The cost of chronic pain conditions is billions of dollars annually in both treatment costs and the loss of productivity associated with these conditions. But an even greater cost is the risks associated with traditional pain management techniques, which include drug treatment and surgeries. There is a safe, effective alternative to these treatments: Pulsed electromagnetic field (PEMF) therapy.
What Causes Knee Pain?
Knee pain can be the result of an injury, a mechanical problem in the knee joint, or other medical conditions.4  
Injuries can impact the ligaments, tendons, and bursae around the joint and the bones, cartilage, and ligaments that make up the knee joint.  Some of the most common knee injuries include a tear in the anterior cruciate ligament (ACL), fractures, a torn meniscus, bursitis, and patellar tendinitis.
Sometimes, a piece of bone or cartilage breaks off and floats into the joint space, which can interfere with movement.  Other mechanical problems that cause knee pain include Iliotibial (IT) band syndrome, dislocated kneecap, and hip or foot pain that changes your gait, putting a strain on the knee joint.
There are more than 100 types of arthritis, but those that are most likely to impact the knee are osteoarthritis, rheumatoid arthritis, gout, pseudogout, and septic arthritis.  Other medical conditions that can result in knee pain include patellofemoral pain syndrome and infection.
Regardless of the source, knee pain can seriously impact mobility and quality of life, particularly when it becomes chronic. Using PEMF therapy on minor knee conditions can help prevent more serious conditions from developing.  
Acute Vs. Chronic Knee Pain
Knee pain can start as acute pain, which is a critical part of the healing process. Typically, acute knee pain is the result of an injury or infection. The pain is part of an inflammatory response that protects the joint from further damage during the healing process.  The signal that injury sends to your brain prompts an emotional response that results in the pain you feel. As the injury heals, the emotional response (and therefore the pain) subsides.
When pain lingers after the immediate issue has been treated, it is known as chronic pain. This is a condition that can last a lifetime.  When pain has been present for more than three months, it's considered chronic pain.  While it may start out relatively mild, chronic pain can worsen over time.  And because it can be the result of an emotional signal gone wrong, the actual source of the chronic pain may be difficult to trace. Your brain changes, sending signals that make pain feel more severe than it should.  
PEMF treatment to the knee joint can accelerate healing from injury, and can also help manage pain from a chronic condition, such as osteoarthritis.  Treatment to the brain can also help reduce knee pain, as it repairs the signals in a safe, non-invasive way.
PEMF Therapy Offers Effective Relief for Knee Pain
Pulsed electromagnetic field (PEMF) therapy sends pulses of magnetic energy into the knee, stimulating repair at the cellular level.
Research has consistently demonstrated that PEMF therapy is a safe, effective method for treating knee pain.  A 2012 systematic review published in the journal Rheumatology looked at 14 trials and concluded that PEMF was significantly more effective than placebo in treating pain related to knee osteoarthritis at both 4 and 8 weeks when the research used high-quality methodology. This same review showed that knee functionality also increased at the 8-week mark.5
A clinical trial conducted in 2015 published in the same journal had similar findings. In this study, which involved 60 patients who had knee OA with mild to moderate levels of pain, visual analog scale (VAS) scores decreased by 25.5 percent in the PEMF group after one month of treatment. One-quarter of the subjects who received PEMF therapy stopped taking previously prescribed medications for pain.6
Drawbacks to Conventional Pain Management
Conventional pain management techniques cover up symptoms but do nothing to remove the source of the pain, particularly if the pain is originating from the brain. The result is lifetime dependence on prescription medication, which often leads to addiction issues. Surgical solutions aren't always effective either, since identifying where the pain originates is so tricky. 
The potentially extreme consequences of conventional treatment make learning about alternative treatments, such as PEMFs, worthwhile.
PEMFs are a Safe Alternative for Acute and Chronic Knee Pain
Using a full-body mat or smaller targeted pad for just 15-30 minutes per day can help manage pain effectively.   For conditions that require longer treatment, the BioBalance PEMF mat can be used for an extended amount of time, even overnight.  
The BioBalance is a medium-intensity whole body system with preset therapeutic frequencies ranging from 0.5 Hz to 23 Hz.  With six programs, some of which offer a background frequency as well, BioBalance PEMF mats are perfect for producing a wide range of benefits. The BioBalance comes with a smaller pillow applicator for targeted treatment as well.
The BioBalance is a great solution for the treatment of acute or chronic knee pain. Send us a Message for more information or to order.
References:
National Academies of Sciences, Engineering, and Medicine. 2017. Pain Management and the Opioid Epidemic: Balancing Societal and Individual Benefits and Risks of Prescription Opioid Use. Washington, DC: The National Academies Press. https://doi.org/10.17226/24781.
Bunt CW, Jonas CE, Chang JG. Knee Pain in Adults and Adolescents: The Initial Evaluation. Am Fam Physician. 2018 Nov 1;98(9):576-585. PMID: 30325638.
Nguyen US, Zhang Y, Zhu Y, Niu J, Zhang B, Felson DT. Increasing prevalence of knee pain and symptomatic knee osteoarthritis: survey and cohort data. Ann Intern Med. 2011 Dec 6;155(11):725-32. doi: 10.7326/0003-4819-155-11-201112060-00004. PMID: 22147711; PMCID: PMC3408027. https://www.mayoclinic.org/diseases-conditions/knee-pain/symptoms-causes/syc-20350849
Seo Ryang We, Yun Hyung Koog, Kwang-Il Jeong, Hyungsun Wi, Effects of pulsed electromagnetic field on knee osteoarthritis: a systematic review, Rheumatology, Volume 52, Issue 5, May 2013, Pages 815–824, https://doi.org/10.1093/rheumatology/kes063
Bagnato GL, Miceli G, Marino N, Sciortino D, Bagnato GF. Pulsed electromagnetic fields in knee osteoarthritis: a double-blind, placebo-controlled, randomized clinical trial. Rheumatology (Oxford). 2016 Apr;55(4):755-62. doi: 10.1093/rheumatology/kev426. Epub 2015 Dec 24. PMID: 26705327; PMCID: PMC4795538.